I have tried to tell a little about both people and the training.
Today I want to tell a little and everyday routines and small moments.
Let's start with the alarm.
There is no fixed time. Some days everyone wakes up at 5.30 and other days at 3.00 - and if it rains, the training is postponed and everyone goes back to bed again until the weather has improved.
The time depends on the type of training to be completed. Eg. tomorrow we have a long distance with two groups - one 35km and the other 43km. On such a day, everyone is awakened at 3.00 to be ready for the training starts at. 4.00.
After training, it is usually time to eat breakfast, but only after a nice hot shower. This is done by going down to the kitchen with a bucket and fetching boiling water, which is then diluted with the cold.
Here I would like to tell about a little experience I had the other day.
In the bathroom near my room there is a switch that turns on a kettle to heat the water. Do you remember that I have previously told about how the current occasionally goes? Well, that happened two days ago. After a little morning workout, right while I was standing under the shower. Do you think I got dressed and went down to the kitchen? No, I challenged myself and opened the tap anyway. And took a very refreshing shower.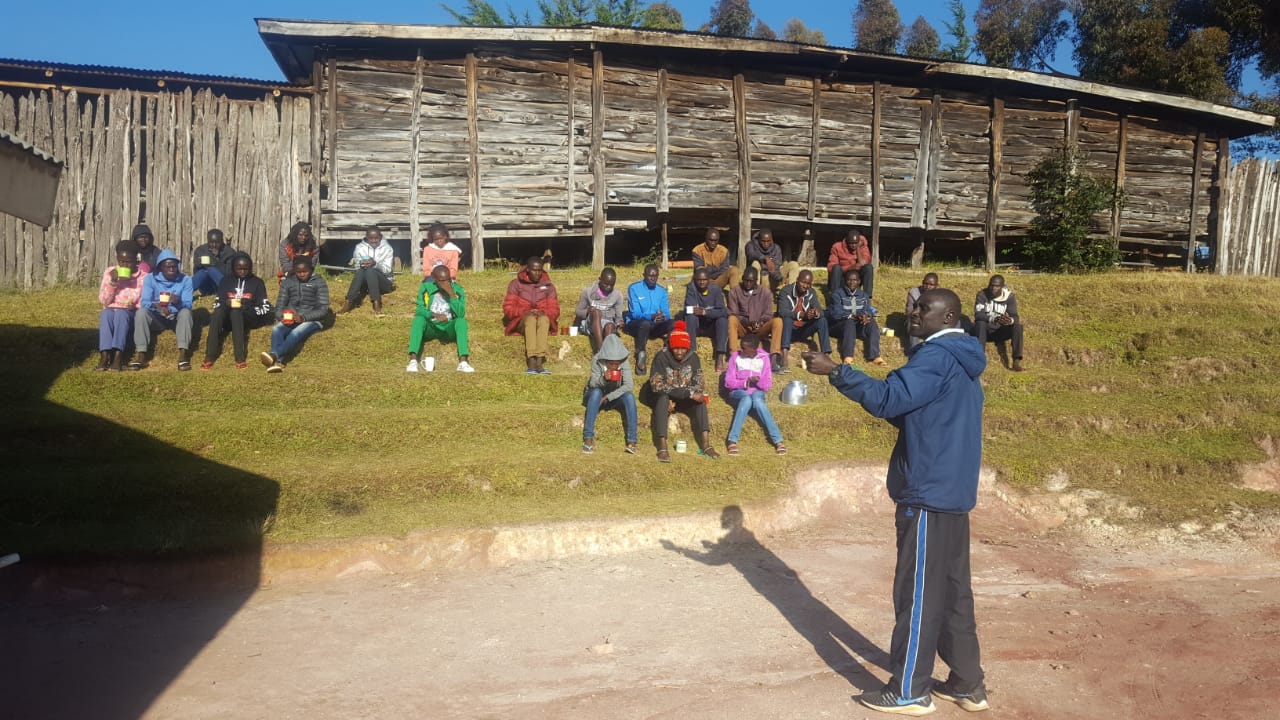 After breakfast, as I have described earlier, we start the day.
Everyone starts cleaning and washing clothes. Here, too, I have a little story to tell. After taking the cold shower, I then went down to the kitchen with the bucket and asked for hot water. When the bucket was less than half full, I said stop and they asked me what I needed water for. I replied, to the clothes .. everyone looked at me with an astonished expression as I left the Kitchen. They both think it was strange to take a cold bath and to wash clothes in hot water, which is not normal here.
Then there is time to relax. Everyone does it in their own way. Some take a nap, others go for a walk and some prefer to come to me and get a treatment, to recover faster after the morning workout. So here begins my real working day.
During the treatments, my Kenyan colleague, John, often helps me.
And after a week where he has looked along and I have explained the process along the way, the time has finally come for him to try to use the tecar machine for the first time.
I trust him and let him do a treatment on me. Even if there was a small risk that something could go wrong. But everything went well and when John has finished the treatment, the team captain, Justin, arrives, who also needs a treatment. I ask John if he wants to continue, which he does. The result? He did really well. And as a reward, I made a video for him along the way that can later help him better remember certain passages.
Breakfast bell rings, but today I will not have breakfast in the camp.
Henry, has just invited me out to eat at a local place.
Not far from there - a few steps and we are there. We walk in and amazed at the place, I immediately ask if I can take some pictures. They give permission immediately. Meanwhile, the meat sauce with lamb and chapati is served to our table. But it does not end here. Aren't you going to taste the lamb chops? In short, a really good lunch and a great experience. Thanks Henry!
This is how the days go here in Kapsait. Quiet but calm but unpredictable and always pleasant. Luckily I still have one more week to spend with this wonderful group.